How can QB Online print in middle check stock?
The short answer is no. By design, QB Online can only print in top voucher style checks or 3-per-page standard checks.
The long answer is yes, with the use of check writing software like MultiCHAX.
Using MultiCHAX, you will be able to use your existing check stock (pre-printed or blank checks) and integrate QB Online (or QuickBooks Desktop) to print in the check format that you want to use.
Within the MultiCHAX Setup Control Record, you can select to print TOP, MIDDLE, BOTTOM, 3-PER-PAGE.

How it Works
When printing a check from QB Online, the printed check is displayed as a PDF either on your browser or Adobe Reader. See the example image below.

With MultiCHAX, you can take this check (or batch of checks) and reprint it to our MultiCHAX Virtual Printer.MultiCHAX will then automatically import the text data, reformat it, then print it to your preferred laser printer or inkjet printer.
Depending on the setting, the check you printed will be reformatted to one of the check styles selected: top, middle, bottom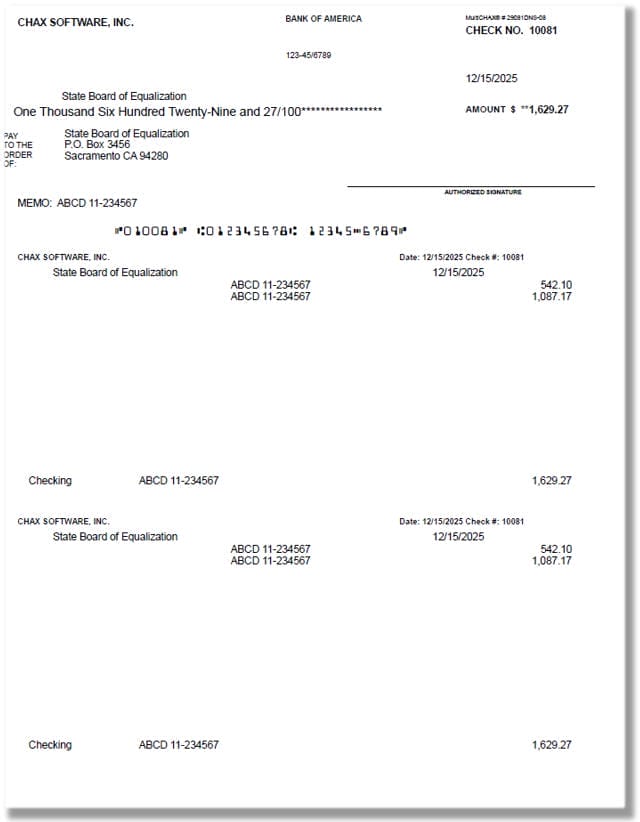 Why you should

print on blank checks

?
The most significant disadvantage of using pre-printed checks is that they include essential info, such as the bank account number and routing number.
You will need to dedicate resources to protect and safeguard these checks, as thieves can utilize all of these details to unlawfully access the account and withdraw funds from it.
Managing multiple batches of pre-printed checks is also a hassle. Having to look for the correct order of checks and bank account.
If the bank account has closed or changed, you will have useless checks to throw out.
With blank check stock, the bank information is stored by the check printing software instead. You never need to worry about managing which bank account to use.
Given that there's no risk to just leaving blank paper lying around, this kind of check stock is naturally safe. It's simply another great method to safeguard your finances.
The added benefit of using blank checks is the cost savings alone. On average, a blank check paper costs 5 cents or less. In comparison, a pre-printed check costs from 50 cents at least.
When printing hundreds of checks per month, these costs add up quickly.
What is MultiCHAX?
MultiCHAX is a check printing software add-on for QuickBooks and QuickBooks Online.
The software allows you to take control of your check writing with powerful features like:
print unlimited checks
change check layout to use top checks, middle checks, bottom checks, 3-per-page standard checks, or Z-Fold checks
use with multiple bank accounts
use with multiple companies
add logos
add signatures
add overlays
compatible with many accounting software programs like QuickBooks, Sage 50, Quicken, and more
use pre-printed checks or cheap blank check stock
Watch the explainer video below to see the benefits of using MultiCHAX for your business.